... A tale of two new Dads, and our ongoing adventures in parenthood... OF TRIPLETS !
Wednesday, December 21, 2011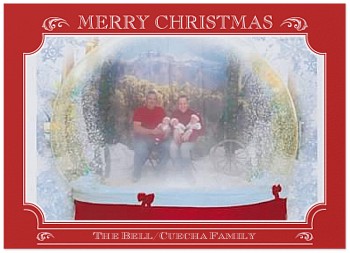 Make the Mantel Christmas Card

Posted by

Aaron B.
at 10:31 AM
0 comments

Saturday, December 17, 2011
Our First Christmas Picture - An Arizona Snow Globe
Well, it looks like I'm a few days late for my "regular monthly post". I really do mean to post more often, but time seems to be going amazingly fast. In just over a week, the Arizona Triplets will be 4 MONTHS OLD... amazing! It's been a whirlwind of activity; most good, but some VERY challenging times as well. Over all, we continue to be so blessed with happy, healthy children that are growing right on target. As of this week, Caitlin is in the lead at 13# 14oz, Riley is just behind at 12# 13oz, and Kelsie is bring up the rear at just about 11# 10oz. Ms. Caitlin Marie has graduated to diaper size #2. We've come quite a way from Preemie diapers, trying to get them to eat 30ml through the bottle versus a feeding tube, and waiting for the umbelical cord stump to fall off and heal up.
We are spending the holidays at home, of course. Our great family are all coming to visit us. We can't wait to see everyone, but I have to confess, I'm a little nervous about having this many people in our house at the same time, and getting the kids to sleep on a somewhat normal schedule. Sid keeps telling me that it will all work out, and I'm sure he's right.
The pictures on this post were taken a few weeks ago. It was actually the first "public" outing in AZ for the kids. That is, the first time we ventured out in public, without going to the doctor office. Everything went fairly well - we are getting a "little" better at getting the Triplets dressed, in car seats, and out the door... but it still takes about 45 minutes to an hour. So, we finally get out the door, down the driveway, and on our way. We went over to a shopping center not far from the house. On the drive over, the sky got darker, darker and darker still.... yup... we made it to the parking lot just in time for the rain! We made it out of the parking lot... and then people noticed us ... two men with three babies... and the "wow, are those triplets..." comments began. Everyone was nice, but I was really wanting to get out of the cold. At the end of the short visit, all I wanted to do was get back into the heated car. We were there long enough to take the picture above, buy some stuff and Bath & Body. The next stop was our friends house, Jane & Cookie, and their puppy, Kirin.
We are still having good moments and not-so-happy moments, but thats life, right?? Over the past few weeks, all three kids have been smiling from ear-to-ear at the sight of us, and really, thats what it's all about ! 
Caitlin Marie
Kelsie Jeanne
Riley Connor

Merry Christmas & Happy New Year from all of us !
Posted by

Aaron B.
at 11:08 PM
3 comments